Radeon RX 6000, AMD rilascia le prime informazioni sulla futura GPU e le prestazioni dichiarate sono molto interessanti.
Il produttore americano di semiconduttori ha approfittato dell'evento per la presentazione delle nuove CPU Zen3, la serie Ryzen 5000, per regalare anche un'assaggio delle prestazioni della nuova scheda video per ora denominata in codice "Big Navi". Il Ceo Lisa Su ha alzato parzialmente i veli su un prodotto molto atteso dai videogiocatori e le premesse sembra interessanti.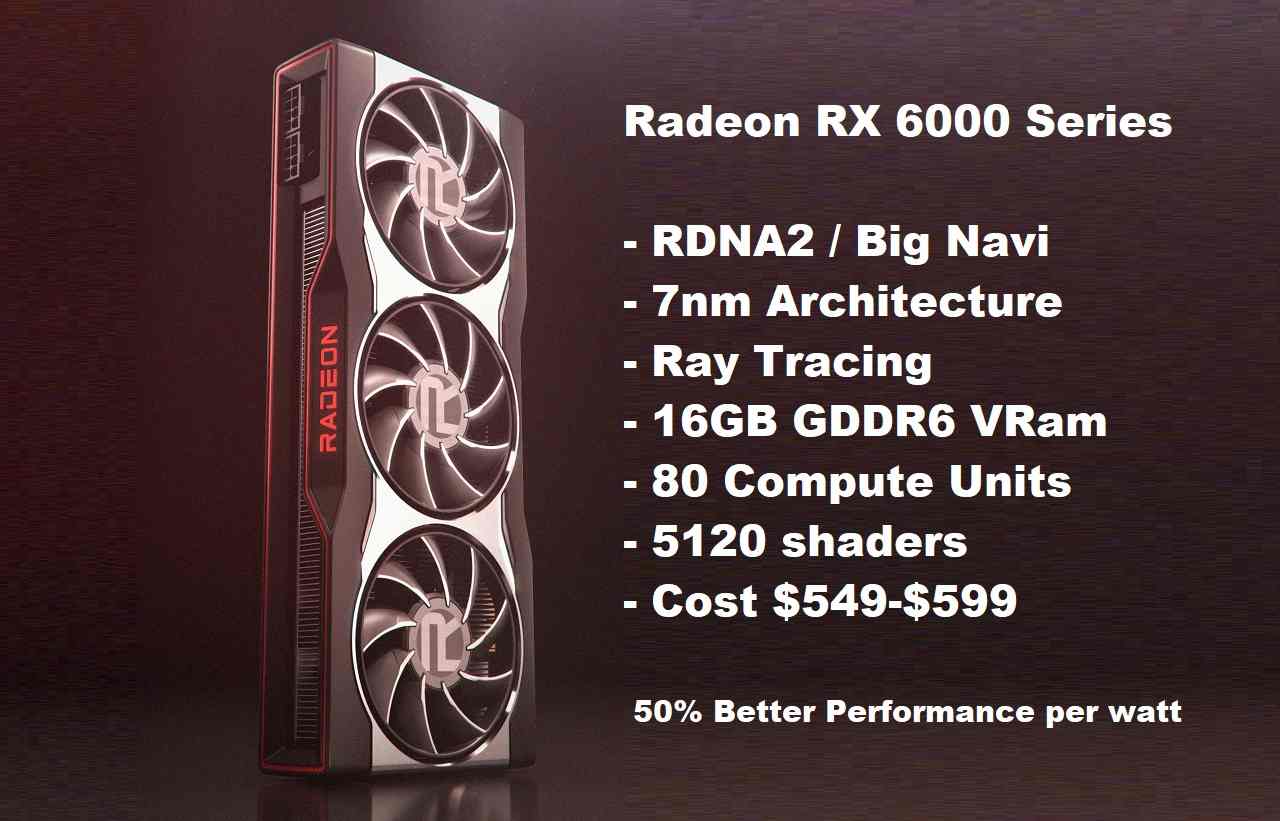 Radeon RX 6000, 60 fps su Boerderlands 3
Partiamo dalle prestazioni dichiarate da Lu. L'accoppiata con la nuova CPU Zen3 e la GPU Radeon RX 6000 ha raggiunto i 61 fps per Borderlands 3, salendo poi a 88 per Call of Duty Modern Warfare e i 73 pfs con Gears of Wars 5, sempre a una risoluzione di 3840×2160, sempre sfruttando le DirectX 12.
C'è da dire che AMD non ha  dichiarato quale modello sia stato utilizzato per ottenere questi risultati e dovremo comunque aspettare la data del 28 ottobre per conoscere tutte le versioni in vendita, ma la multinazionale ha voluto ribadire che l'accoppiata con il nuovo  Ryzen 9 5900x permetterà di raggiungere prestazioni superiori ad Intel.
Intanto in un tweet Planet 3D Now ha mostrato una tabella comparativa rispetto alla RTX 3080. Se Borderlands gira praticamente allo stesso numero di frame, 61 contro 62, il gap sale in Gears of Wars 5, in cui il prototipo per ora si ferma a 73 fps rispetto agli 81,4 della RTX 3080.
Parliamo di caratteristiche. La RX 600 dovrebbe avere un clock base di 1,5 Ghz, 16 GB di memoria VRAM GDDR6, 5120 stream processors e una banda di memoria di 512GB/s. Secondo le indiscrezioni questa scheda si posizionerà su tre modelli, tutto per contrastare la nuova famiglia Nvidia RTX serie 30 e potrebbero uscire i modelli RX 6700 XT, RX 6800 XT e RX 6900 XT, a meno di sorprese.