Mancavano solo loro e finalmente eccoli apparire, condivisi direttamente da NVIDIA. Quali sono i requisiti minimi e raccomandati per far girare Marvel's Guardian's of the Galaxy? Ma soprattutto: quale configurazione è meglio avere per sfruttare il ray-tracing?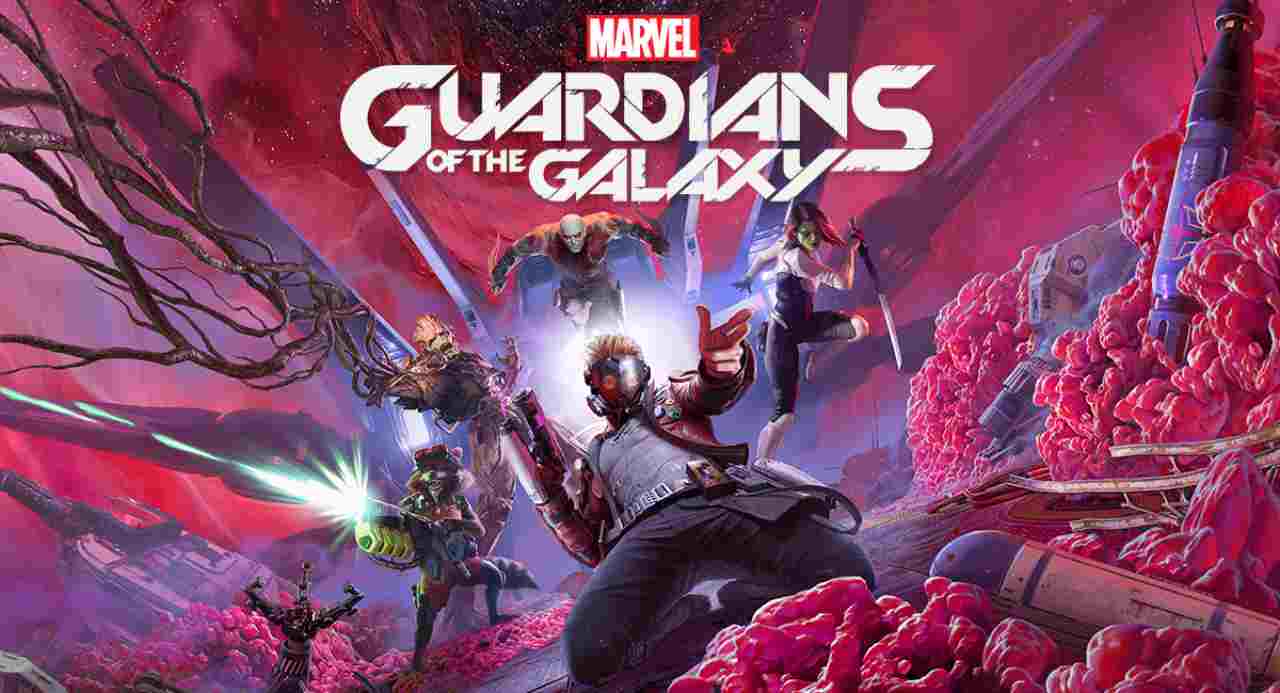 Fiore all'occhiello delle schede grafiche di NVIDIA da qualche anno a questa parte è il tanto ambito e – fino a qualche tempo fa – impensabile ray-tracing. Una funzione che permette, di fatto, di rendere i videogiochi pari alla realtà per quanto concerne l'illuminazione dinamica. E, ovviamente, tutti i giochi moderni (e tripla A) – o quasi – vantano questa funzione, attivabile o disattivabile in base a quelli che sono i nostri componenti.
Marvel's Guardians of the Galaxy: quali requisiti minimi e raccomandati per il ray-tracing?
In questo senso Marvel's Guardians of the Galaxy non rappresenta di certo un'eccezione, anzi. Il videogioco in uscita per console e, ovviamente, PC, potrà essere spinto al limite grazie ad un ray-tracing che promette come sempre faville. NVIDIA ha quindi deciso di scendere in campo e preparare i videogiocatori per l'uscita del titolo, fornendo quelli che sono i dettagli relativi all'utilizzo del ray-tracing nel titolo ad ispirazione fumettistica.
Se vogliamo tenere bassi i dettagli, ma attivare il ray-tracing, NVIDIA spiega che dovrebbe bastare una NVIDIA RTX 2060, una delle prime schede ad offrire la possibilità di un'illuminazione dinamica. Ovviamente, spingendoci più in alto, quindi impostando il resto su dettagli ultra, sarà necessaria una GPU ben più potente e moderna, come le 3070 e 3080.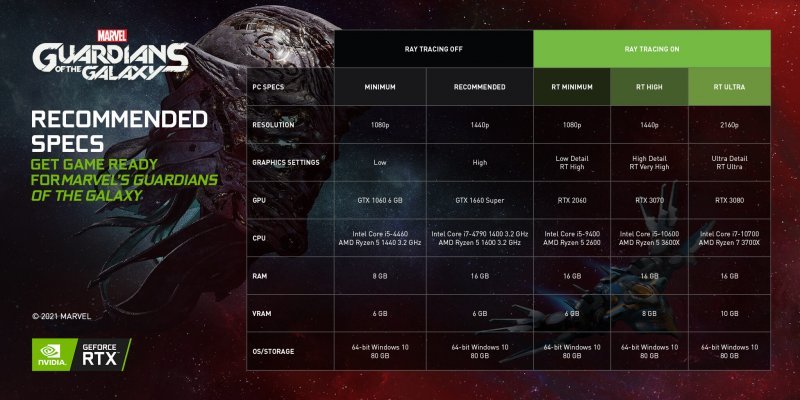 Marvel's Guardians of the Galaxy, requisiti minimi per il ray tracing (1080p, dettagli bassi, ray tracing alto)
Processore: Intel Core i5 9400, AMD Ryzen 5 2600
Scheda video: NVIDIA RTX 2060
Memoria: 16 GB di RAM
Storage: 80 GB di spazio richiesto
Sistema operativo: Windows 10 64 bit
Marvel's Guardians of the Galaxy, requisiti medi per il ray tracing (1440p, dettagli alti, ray tracing molto alto)
Marvel's Guardians of the Galaxy, requisiti alti per il ray tracing (2160p, dettagli ultra, ray tracing ultra)
Processore: Intel Core i7 10700, AMD Ryzen 7 3700X
Scheda video: NVIDIA RTX 3080
Memoria: 16 GB di RAM
Storage: 80 GB di spazio richiesto
Sistema operativo: Windows 10 64 bit